American historian John W. Kiser talks about Emir Abdelkader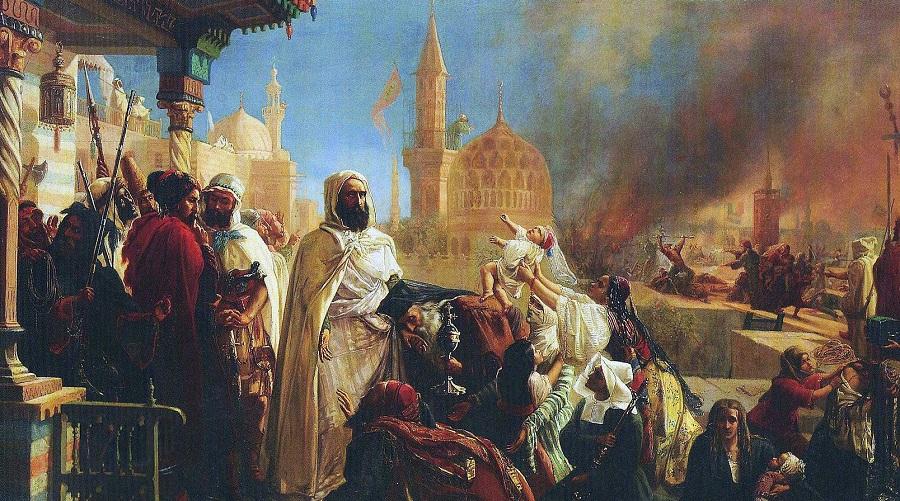 In your opinion, isn't Emir Abdelkader al -Jazairy a model for all humanity?
Yes, so long as his practice of polygamy is not a problem for humanity. Nevertheless, he exemplifies a unity of mind, body and spirit that is rare. He embodied the four virtues, set forth by Thomas Aquinas, necessary to lead a moral life: intellect, just behavior, ethical courage and self mastery. With a proper introduction, chapter 21 (The Emir's Letter) might be reproduced as a pump priming pamphlet for worldwide distribution and explaining the deep importance of Jesus, as witnessed by the popularity of Issa as a name for boys. I am certain such information would surprise most non-Muslims and cause them to reflect on what else they don't know.
Algeria, which suffered a genocidal, criminal and infamous French colonialism. What is your view of the colonial night that Algeria and the Algerian people experienced?
France's encounter with the Arab Berber world was one of many similar confrontations of Europeans with "primitive" native cultures at the time. The big land grab for raw materials and markets was enjoyed by Britain, Spain, Portugal, Holland, Italy and of course, the USA. How does one rank France ? France was a creature of its times. First as a colonizer, later as an anti-communist warrior, along with the U.S. and its policy of incineration of Vietnamese. There may have been others, possibly much worse – Belgian Congo, for example. But they all shared a common contempt of so-called "primitive" people, who themselves were not immune to similar discrimination among their tribal cultures. It seems that looking down on others is a universal vice.
Can you tell us about the history of the city of Elkader? How did the idea come about to create a city with the name of Emir Abdelkader al-Jazairy?
Founded in 1846 in what is today, Iowa by three home grown American lawyers who had gone west to make their fortunes. Prospecting for a site to lay out a new town that would have a water driven flour mill, Timothy Davis was asked by his colleagues to name the future village. He mentioned his admiration for the 'plucky Arab chieftan, Emir Abdelkader' but suggested shortening the name to make it more pronounceable for American tongues. At the time Americans reading Littel's Living Age were rooting for the emir who became known for his resilience and cleverness in this David vs Goliath struggle with France. The lawyers likely remembered America's recent struggle with a supercilious England and its superior attitudes toward its own colonists.
Can you tell us about Abdelkader Project?
The Abdelkader Education Project was an outgrowth of the launch of Commander of the Faithful in 2008. Given the anti-Muslim prejudices at the time, I believed the book would be quickly forgotten, despite good reviews. I was particularly heartened by the praise from Muslims around the world – especially Algerians. In order to draw attention to the book, Kathy and I decided to organize an annual essay contest for local students, who were challenged to write a 1500 word essay addressing the question "Why is Abdelkader relevant to the world today?" As interest grew, we decided to create a 501(c)3 non-profit organization to solicit funds for essay prize awards. We also learned that the year 1917 was the last time that local students had been reminded of their heritage, proudly naming their athletic teams names like "The Arabs" and "The Chieftans."
In these moments of great turbulence, doesn't the world need the thought of Emir Abdelkader al -Jazairy ?
Yes, it does. Just as it needs the thought and good examples of others, such as Tolstoy, Gandhi, Mandela, and Yitzak Rabin. Statesmen who can move beyond tit for tat and take the high road.
Some chaos theorists talk about the clash of civilizations, didn't Emir Abdelkader demonstrate the limits of these theses? Many of his greatest admirers were Christians : Bishop Adolphe-Antoine Dupuch of Algiers, the Dominican sisters who took care of his family in prison, and many others. He was a friend of the Freemasons and Saint Simonians, received the Legion of Honor, received gifts from President Lincoln and Pius IX, who was honored worldwide for saving thousands of Christian lives in Damascus. In your opinion, don't civilizations feed off each other?
The problems are not with religion but with people. Mostly, ignorant people who have not studied the tenets of their own faith, or use its teachings as an a la carte menu. Sura 5:28 should be embraced by all thinking people.
"If God wanted, he could have made us all the same, instead, God created different tribes and nations so that they might learn to know one another and compete in good works." Sura 5:28
Isn't Emir Abdelkader al -Jazairy, in your opinion, a bridge between the West and the East?
Yes, I do think Abdelkader could become a bridge. Today, his example should be used in the near term as a bridge between France and Algeria. France and Algeria need to look toward the future, not the past. Their leaders need to lead like Mandela and practice forgiveness.
Commander of the Faithful, a magnificent book that retraces the life of Emir Abdelkader al -Jazairy. Don't you think this beautiful story should be read in all schools and universities around the world?
Yes, of course! (This has been proposed by Sayyid Syeed, longtime president of the Islamic Society of North America.)
Don't you think that the universal heritage of Emir Abdelkader al -jazairy is immortal?
Yes, there is a universal heritage that slipped through the cracks of history. He should be viewed as deserving of status similar to Rumi, but with more diverse attributes. This is why I wanted him NOT to become "alms to oblivion" as Charles Henry Churchill feared when he wrote the first English language biography of the emir. This was made possible in 1860, when the emir granted him an hour a day for six months to ask questions. Shortly after concluding his interviews, the emir's reputation was validated by his interventions in Damascus to protect the lives of thousands of Christians and Jews against the Druze. Churchill dedicated the book in 1869 to Louis Napoleon, III, the emir's liberator. This is my contribution to assist Churchill.
Has humanity understood the enlightenment thought of Emir Abdelkader al-Jazairy?
I cannot speak for humanity, but clearly the emir's story is resonating with and capturing the attention of people everywhere, raising overall awareness. This is why film, art, theatre, fashion, cuisine, the equestrian world, video gaming are all future paths of influence.
Have you thought of creating a partnership with Algeria as part of your work in Abdelkader project?
Yes, I have and am aiming at doing just that, with the help of good planning and organization. We have a model for doing such in Pakistan, where an Urdu version of Commander was provided by Mohammad Khan Nasr, a highly respected, conservative Pakistani editor of journal al Sharia. There is now a demand for a A Dari/Pashto version. (See linked video re: Nasr Khan's validation of COTF at the )Rumi Forum.
It is not clear whether the current instability in Algeria will hinder or help promote a serious re-engagement with the emir and his importance as a model for Algerians and the rest of the world.
Interview realized by Mohsen Abdelmoumen
Who is John W. Kiser?
John Kiser is one of AEP's founders. He is an author, philanthropist, and entrepreneur. He serves on the board of the William and Mary Greve Foundation from which position he has been spearheading, for the past twenty-five years, projects to address America's dangerous ignorance of the Muslim faith. It is an ignorance, he has learned, that also infects Muslim communities.
His engagement with the Muslim world began in 1994, after winding down Kiser Research, Inc. in Washington D.C., a business that challenged the conventional wisdom about Russian secretiveness and won national attention by documenting and implementing opportunities for acquiring advanced technologies and intellectual property rights from Russia. His innovative thinking was recognized by both congressional intelligence committees and the Russian Academy of Science in 1993.
In the early 90's John took his family to France for a sabbatical. His goal was to improve his French, read the Bible, and expose his children to other cultures. Ten years later, two books emerged: "The Monks of Tibhirine: Faith, Love and Terror in Algeria", and "Commander of the Faithful: A Story of True Jihad". In 2012, John's book about French Benedictine monks was the basis for the Cannes Festival's award-winning film "Of Gods and Men".
In 2008, the launch of the book "Commander of the Faithful" in Elkader, Iowa, led to the creation of the Abdelkader Education Project. AEP is now developing strategies for the globalization of Abdelkader as a teacher for the world. Today, audiences for the Emir's demonstrated values and universalist thinking include educators, civic leaders, diplomats, religious communities and the military.
Published in https://www.algeriepatriotique.com/2021/05/12/interview-lhistorien-americain-john-w-kiser-se-confie-sur-lemir-abdelkader/