Michael Klare:" The countries that are most successful in making the transition to renewable sources of energy will be the leading economic powers of the 21st century"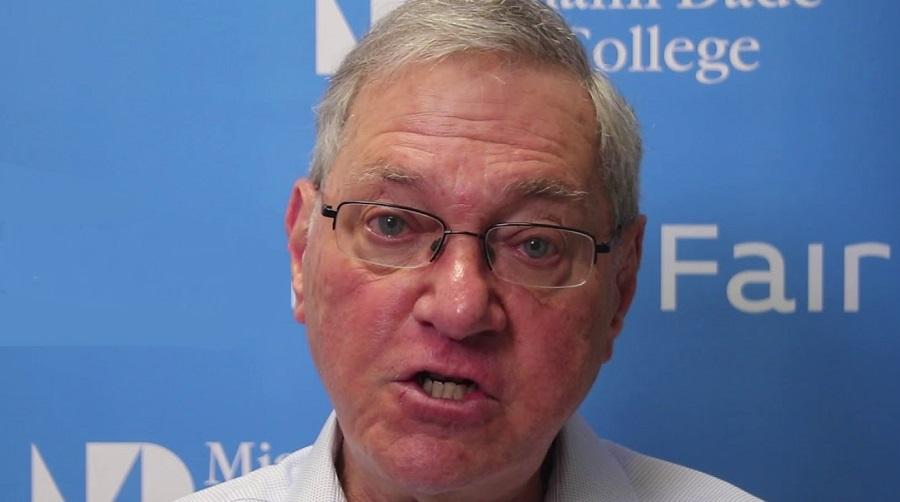 Michael Klare. D. R.
Abdelmoumen Mohsen: CAN YOU PRESENT US YOUR CONCEPT OF EXTREME ENERGIES AS WELL AS THE DIFFERENT CARBONIC ERAS?
Michael Klare : I define « extreme energy » as any fossil fuel whose exploitation requires unconventional means of extraction. At present, the oil, coal, and natural gas industries are very mature industries, each well over 100 years old. Over the course of time, they have developed various technologies to efficiently extract oil, coal, and gas from the Earth. But many of the world's most prolific sources of those materials have become substantially depleted, and so the fossil fuel industries must search for new sources of supply. As all easily-accessible reservoirs have now been located and exploited, they must look further afield, to reservoirs that in the past were considered inaccessible or too costly to extract. This has resulted in the development of new technologies, such as hydraulic fracturing, Arctic drilling, and deep-offshore drilling, to extract supplies from these hitherto inaccessible reserves. These modes of extraction often entail significant economic, political, and environmental risks, and for this reason I call them « extreme energy. »
WHAT IS YOUR ANALYSIS OF PRESIDENT OBAMAREPORT ON THE GREEN TECHNOLOGY REVOLUTION?
Many analysts now believe that it is no longer necessary to rely on these extreme means of energy extraction as the world can rely on renewable sources of energy to supply an ever-greater share of the world's energy requirements. This is the intent of the green energy plans being offered by the Biden administration. Under these plans, the US will rapidly decrease its reliance on fossil fuels, especially coal, for the generation of electrical energy, and will begin the transition from fossil-fuel vehicles to electric vehicles.
THIS SAME REPORT PREDICTS A VERTIGINOUS DROP IN INDUSTRIAL JOBS. WHAT DO YOU THINK?
The shift from reliance on fossil fuels to provide energy will result in the loss of jobs in the oil, coal, and gas industries, with the coal industry suffering the greatest loss. But this industry has been in decline for years, as gas has replaced coal as the main source of electricity generation, so the future losses will not be so great. The Biden administration says it will be possible to retrain displaced workers to obtain new jobs installing wind towers and solar panels, and if this proves to be the case, the net loss of jobs will be minimal.
DO YOU THINK THAT A PARADIGM SHIFT AS IMAGINED BY THOMAS SAMUEL KUHN IS POSSIBLE IN THE FIELD OF ENERGY?
A paradigm shift is already under way around the world as the use of coal is declining in most of the world (China and India) accepted and renewable energy is providing an ever-increasing share of the world's electrical energy. This will only gain further momentum in the years ahead.
COULD THE ALLIANCE BETWEEN SCIENTIFIC RESEARCH AND ALTERNATIVE FINANCE BE A WAY TO ACHIEVE THIS CHANGE?
The paradigm shift now under way is occurring largely as a result of changing political views. As populations around the world become more aware of the consequences of climate change – and here, the work of scientists in educating the public is very important – they are putting ever-increasing pressure on politicians to take concrete action to slow the pace of global warming, and this usually means efforts to reduce carbon emissions and increase reliance on renewable sources of energy. This is especially evident in the EU, but also increasingly in the US, Japan, and China.
ACCORDING TO YOU, WHAT ARE THE ENERGY SOURCES OF THE FUTURE, WHICH CAN CONSTITUTE AN ALTERNATIVE TO CONVENTIONAL AND NON-CONVENTIONAL FOSSIL FUELS?
Wind and solar power will provide the majority of energy in producing electricity, and electricity will increasingly provide energy for transportation, replacing petroleum in this role.
WHAT WILL BE THE GEOPOLITICAL CONSEQUENCES OF THIS ENERGY TRANSITION ON THE INTERNATIONAL BALANCE OF POWER, ESPECIALLY BETWEEN THE PAX AMERICANA – CHINA – RUSSIA?
Ultimately, the countries that are most successful in making the transition to renewable sources of energy will be the leading economic powers of the 21st century. The YS and China appear to be in a competition for this leadership role, but both have to overcome their addiction to fossil fuels – China to coal, the US to oil. Nations that rely on fossil fuel experts to finance their economies, like Russia, Nigeria, Venezuela, and Saudi Arabia, will suffer a loss of geopolitical power and influence.
Interview realized by Mohsen Abdelmoumen
Who is Michael Klare?
Michael Klare, Five College professor emeritus of peace and world security studies, and director of the Five College Program in Peace and World Security Studies (PAWSS), holds a B.A. and M.A. from Columbia University and a Ph.D. from the Graduate School of the Union Institute. He has written widely on U.S. military policy, international peace and security affairs, the global arms trade, and global resource politics.
His books include American Arms Supermarket (1984), Low-Intensity Warfare (1988), Peace and World Security Studies: A Curriculum Guide (Fifth Edition, 1989; Sixth Edition, 1994), World Security: Challenges for a New Century (First Edition, 1991; Second Edition, 1994; Third Edition, 1998), Rogue States and Nuclear Outlaws (1995), Light Weapons and Civil Conflict (1999), Resource Wars (2001), Blood and Oil (2004), and The Race for What's Left (2012). His articles have appeared in many journals, including Arms Control Today, Bulletin of the Atomic Scientists, Current History, Foreign Affairs, Harper's, The Nation, Scientific American, and Technology Review.
Klare serves on the board of the Arms Control Association and advises other organizations in the field.
Published in https://www.algeriepatriotique.com/2021/06/26/michael-klare-les-pays-qui-maitriseront-les-energies-renouvelables-seront-les-puissances-du-xxie-siecle/